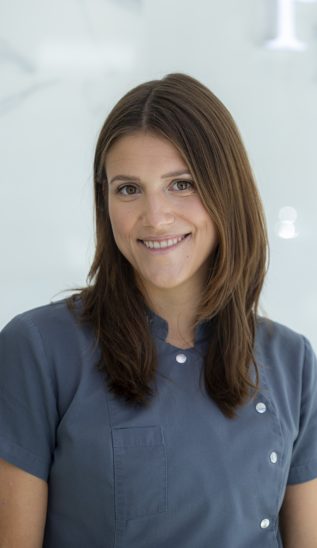 Kamila Cierplikowska
Graduate of the Faculty of Dental Medicine at the Medical University of Warsaw. She has completed numerous courses and training events in cosmetic dentistry, pedodontics, orthodontics, prosthetics and occlusion.
She intensively broadens her knowledge in the field of orthodontics, paying the utmost attention to managing craniofacial growth in developmental age as well as complex treatment of the patient, taking into account the interaction between the temporomandibular joint, occlusion, aesthetics and regular facial proportions.
She is currently undergoing a prestigious specialisation course in orthodontics at the University of San Jorge in Spain developed by the Athenea Dental Institute. Since 2019, she has been participating in the prestigious training programme in implantoprosthetics entitled "MPI Implant Prosthodontic Program" held at the Mediterranean Prosthodontic Institute in Spain and the University of North Carolina in the USA.
On a personal note, her great passions are kitesurfing and horse riding.
Courses completed: "The art of modelling in dentistry" Ivan Ronald Huanca – the anterior section – Warsaw 2016
"The art of modelling in dentistry" Ivan Ronald Huanca – the lateral section – Warsaw, 2016 "Composite Academy, module I" – Kraków, 2017, "Aesthetic fillings in lateral teeth" dr n. med. Michał Ganowicz – Rzeszów, 2018
"Inlay/onlay tooth restoration – step by step" – lek. dent. Marcin Krupiński – Warszawa, 2018 "Composite & composition, restoration of anterior teeth"
– lek. dent. Dagmara Karczewska Rzeszów, 2019 "Master Level Plan and Bite" Occlusion and Dental Physiotherapy – lek. dent. Łukasz Lassman – Gdańsk, 2020 "Master Level Plan and Prep" Smile Design and Preparation – lek. dent. Lassman – Łódź, 2021 '"Simple Procedure – spectacular results. New system solutions in direct restorations" – lek. stom. Jakub Mikołajczak – Rzeszów, 2021 "Reconstruction of teeth in the lateral section" lek. dent. Grzegorz Grzegorz – Rzeszów, 2021 "Comprehensive diagnostics including the temporomandibular joint". "Cephalometry, diagnostic models, the analysis of clinical cases" – lek. stom. Aleksandra Gabren Syller – Warsaw, 2021 Ongoing training sessions: "8th Promotion MPI-UNC Implant Prosthodontic Program 2019" Fernando Rojas Vizcaya – Castellon, Spain & University of North Carolina, Chapel Hill Athenea Dental Institute
"University Expertise in Orthodontics and Dentofacial Orthopeadics": validated by San Jorge.