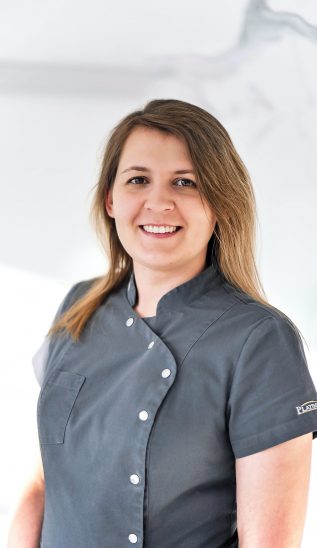 Hanna Nieścior
Graduate of the College of Physiotherapy in Wroclaw. Defended her Master's degree in physiotherapy in 2012. She took her first steps in the profession in one of the clinics in Wrocław, where after a few years she became the head of rehabilitation unit. She keeps improving her qualifications at numerous training events in Poland and abroad. Completed courses including: manual therapy according to Dr Ackermann, Cranio-Sacral therapy, FDM (Fascial Distortion Mode) therapy, physiotherapy in Master Level dentistry, Global Foot Therapy together with the provision of individual orthopaedic insoles supporting correct gait biomechanics, making it possible to apply a holistic approach to the patient with a thorough analysis of the entire body posture and selection of dedicated therapy.
At the Platinum Dental Clinic, she specialises in the treatment of temporomandibular joint disorders, bruxism, pain and tinnitus, migraines, injuries and post-operative conditions of the masticatory apparatus, pain of joint origin, increased tension of masticatory muscles and all disorders of the stomatognathic system.
In addition, she teaches at a post-secondary school, where she educates future massage therapists. On a personal note, as she says herself, she is a typical "Polish mother". In her spare time, she loves kitchen experiments with her daughters and playing board games on the floor on cold, rainy evenings. Her second greatest passion is diving, but she does not always have enough time to pursue it.