Nowadays, orthodontics is extremely important as it is assumed that about 2/3 of the population suffers from various types of malocclusions and the problem does not exclusively concern young people. It is the result of years of neglect that lead to progressive changes. Normal occlusion and widely understood straight teeth are aesthetically pleasing, but, more importantly, they function properly. At our clinic, patients will be provided with a customized treatment plan, which determines the final result. If necessary, we consult with other specialists to achieve complete satisfaction and maximum safety. Orthodontic appliances (braces) are placed on one or two dental arches, depending on the needs. The time for which the patient will have to wear the applicance depends on the severity of defects, adaptation of the dentition and how fast the effects appear.
If defects are not corrected, it entails a great deal of difficulties, which manifest not only in discomfort when smiling, but also in pain and lesions in the temporomandibular joints. Sometimes the problem is psychological and stress leads to intense teeth clenching and grinding. In such situations, our patients can choose relaxation splints which we recommend using at night to relive pressure on the joints. All of the proposed solutions are of high quality, which means that the patient is guaranteed to achieve the expected results. Changes occur without pain and discomfort.
When to wear orthodontic appliances
Many malocclusions can be detected at an early stage of their formation, which will allow to avoid consequences in the form of facial asymmetry or defects in pronunciation, which can be often noticed nowadays. Patients with malocclusions may also struggle with difficulties while eating or even breathing. Therefore, it is recommended that the first visit to the orthodontist take place already at the age of 4 – 5 years to check whether the bite and the structure of temporomandibular joints are forming properly. Since some cases require a broader diagnostic evaluation, we seek the support of our specialists whenever necessary.
Age does not determine whether an orthodontic appliance or other methods should be used. Change of habits and correction of bite can be conducted at any age and it will certailny translate into improved comfort and, of course, improved aesthetics of the smile. We also recommend it for health-related reasons.
During the orthodontic visit, the doctors must perform an extensive examination to determine the cause of the problem. Therefore, they focus on the presence of breathing difficulties, for example snorring. In children, information on the use of pacifiers, pronounciation and lip sucking are also considered. Our specialists also go through the examination of the oral cavity to check the condition and distribution of the patient's teeth. If orthodontic treatment is necessary, our doctor will present the existing options and choose the adequate solution together with the patient.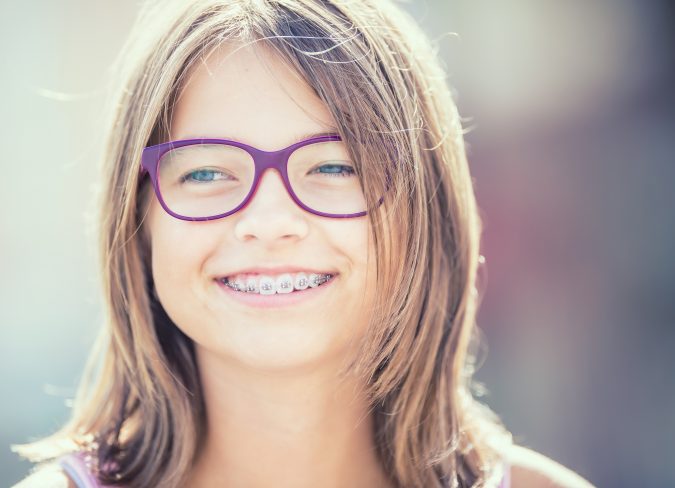 Invisalign orthodontic treatment
Nasza klinika zawsze nastawiona jest na najlepsze rozwiązania dla pacjentów, co widać również w przypadku leczenia ortodontycznego. Klienci mają możliwość skorzystania z nowoczesnej metody Invisalign, dzięki której zęby można wyrównać za pomocą przezroczystych alignerów. Ich zaletą jest dokładność, którą uzyskuje się poprzez komputerowy dobór parametrów dla poszczególnych wad zgryzu. Dlatego jest idealną alternatywą dla klasycznych urządzeń stacjonarnych. Nakładki wykonywane są na podstawie cyfrowych wycisków. Cały proces wymaga od pacjenta noszenia profilowanych szyn (12 do 48), które wyrównują zęby. Aby osiągnąć pełny efekt, należy je wymieniać co 14 dni, ale można to zrobić samemu. Pacjent musi przychodzić na badanie kontrolne co 4-6 tygodni, aby można było ocenić postęp.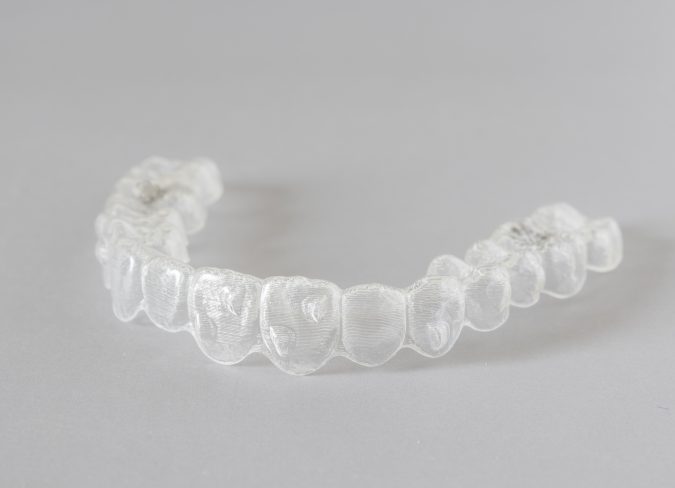 Course of treatment:
Orthodontic consultation and computer scanning of teeth, which will make it possible to determine whether a given malocclusion can be treated with the use of the Invisalign overlays.
Preparation of treatment plan. At this stage, doctors use the ClinCheck® device which is used to provide a three-dimensional representation of the entire treatment process. The patient can see what their smile will look like once the treatment has been completed.
The patient receives profiled aligners which should be replaced every two weeks.
Follow-up visits are scheduled together with the doctor.
The Invisalign overlays are becoming increasingly popular. It is completely understandable as they provide patients with a number of benefits:
they are almost invisible when smiling and during daily activities.
since they do not have any protruding elements (clamps), the oral cavity is not irritated.
They can be easily removed, which means that they do not cause any trouble when it
comes to cleaning the oral cavity or eating.
individual tailoring of the technology to the patient's problem.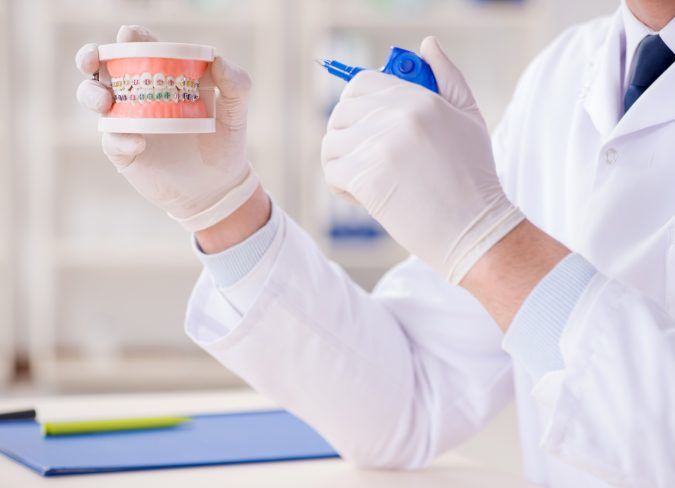 Recommendations for wearers of orthodontic appliances
Patients who wear orthodontic appliances must pay particular attention to the hygiene of the oral cavity. It will help protect the teeth from the formation of harmful plaque, which could eventually lead to the destruction of enamel. Correct approach and adherence to the recommendations gives you the best chance of success. Some of the most important tips for patients using orthodontic appliances include:
Thorough brushing of teeth at least twice a day, or after every meal, to prevent food from getting into free spaces or appliance elements.
Flossing to prevent caries
In the case of mucosal abrasions, it is recommended to use orthodontic wax for
protruding elements
avoid hard foods that can damage brackets
limit sugary beverages and foods
show up for follow-up appointments
Proper care of the orthodontic appliance and special hygiene will keep your teeth in the best condition, which has a direct impact on the duration The length of the treatment depends on how fast the teeth adapt, but the decision is up to the treating physician.