Implantology is a groundbreaking and safe field of dentistry that enables the aesthetic restoration of both a single tooth and multiple teeth. Dental implants make it possible to recreate the patient's original jaw in the most natural way possible while remaining comfortable with daily activities like eating and speaking. These are artificial roots that are made using durable titanium. An important issue that is associated with the use of this material is its perfect integration with the upper and lower jaw bones, so that the patient does not feel any discomfort. During recovery, the implant permanently integrates with the bones of the patient's jaw, making it considered the solution that best represents the stability and naturalness of original dental roots. Dental implants provide the foundation for
further restoration of cavities or additional fixation. Even those who lost a tooth several years ago and were found to have bone tissue atrophy can benefit from this treatment option.
In the Platinum Clinic we select the treatment method most appropriate to the patient's problem. In all cases, patients who choose dental implants can count on a number of advantages that are typical of this form of restoration. The most popular advantages include:
caries resistance of dental implants
no need to interfere with the structure of healthy teeth
elimination of bone tissue atrophy at the site of tooth loss
lifetime durability
negligible risk of rejection of the implants by the patient's body
comfort comparable to natural dentition

Who can benefit from dental implants?
Dental implants are designed for adults who have completely developed body, resulting in a fully formed jaw. Therefore, there is no upper age limit up to which this type of cavity treatment can be performed. Before this procedure is performed and a treatment plan is prepared, our specialists take a medical history to determine the patient's overall health. Some past or present conditions may affect the recovery or healing process. The CT imaging is performed, which shows the condition of the jaw. Based on the CT imaging, our dentists decide whether there are favourable conditions for implantation.
Dental implants are used when teeth are completely missing, several teeth are missing or a single tooth is missing. Until recently, patients had only one treatment choice in the form of removable dentures. It is a method that is used nowadays because of its relatively low costs. Dental implants are an alternative option that makes prosthetic restoration viable in three options – on a crown, on a bridge and a denture. Patients can finally forget about the embarrassment that has occurred when smiling or speaking. A third set of teeth becomes achievable and stands out for its incredible strength and stability. When comparing it to
its predecessors, it does not deviate in any way in terms of comfort or aesthetics.
Preparation for implantation
The preparation of a treatment plan is the first step towards a beautiful and aesthetic smile. This is extremely important because the perfect fit of the method affects the success of the process and its final outcome. As a result, our specialists perform a CT scan to determine bone changes and also evaluate bone measurements before proceeding with dentist procedures. The qualitative and quantitative knowledge of the changes in the maxilla and mandible not only enables the placement of the implant but also the follow-up after the procedure. We use reliable top-generation X-ray equipment in our offices, as well as CT scanners, so that we have
room to realistically determine implant points. A carefully planned dentist procedure is a must and the foundation for later satisfaction with restoration.
Sometimes, prior to placement of dental implants, supplementary bone regeneration procedures are necessary to match the size and density of the restoration – maxillary sinus floor augmentation or bone tissue regeneration.
In the Platinum Clinic, patients can expect to receive information concerning all possible treatment methods together with a detailed presentation of the advantages and disadvantages. In our work, we focus on honesty and sharing knowledge, so that the patient does not have any problems with making decisions or have any doubts and concerns.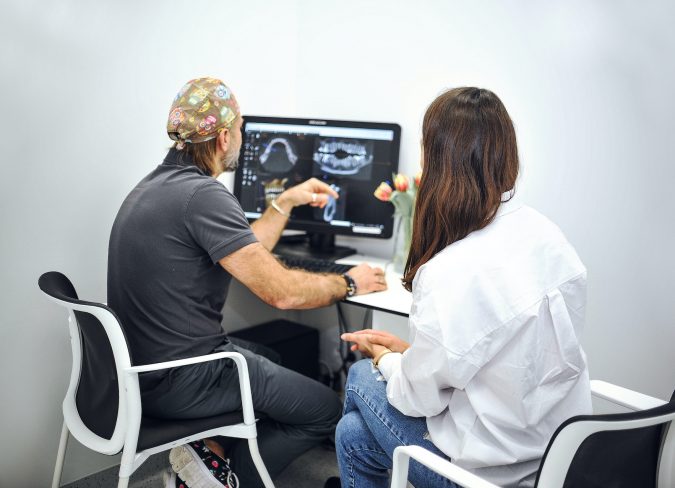 The course of the dentist procedure
Patients always approach bone tissue procedures with apprehension and fear. This is a misconception because dental implants are, first of all, completely safe and, importantly, painless. On the surgical side, implant placement begins with making a precise gingival incision and creating small holes in the bone where the implants will then appear. The entire procedure takes approximately 1 hour. Usually, the patient can return to their daily routine after leaving the office. In the following months (2–6), the patient will experience changes as the titanium implant fuses with the bone. This is the time that ensures the restoration of the missing tooth root.
Prosthetic restoration is the next stage of the treatment, which means taking care of the aesthetic part of the teeth. The prosthetic reconstruction can only be performed if the implant healing has gone well. If the patient's body rejects the implant, our Clinic will perform another procedure completely free of charge. The prosthetic restoration is preceded by the CEREC scan to help determine the exact occluding relations to make the final result as close to natural as possible. Three types of prosthetic restorations are possible in our offices using:
crowns – used when a single tooth is missing. The restoration is done on a single implant, which ensures the space between the natural teeth and the inserted crown to be cleaned. There is no alveolar bone loss in the patient,
as a titanium implant is placed in place of the defect, which acts to stimulate the bone.
In our dentist's offices we use t-base, Atlantis Gold and Premil connectors
bridges – they are perfect when several teeth need to be restored. They are fixed and immovable restorations. Implants or crowned teeth and implants are pillars that
support the bridges.
dentures – compared to traditional removable dentures, the prosthetic restoration using
dentures has greater stability and fixation, which results from the use of implants. Usually, 2–6 implants are used in this treatment option.
Follow-up visits are necessary after the treatment process is complete. The first 14 days after dental implants are placed are the most important in terms of the wound healing process and they determine success, which is why strict adherence to the outlined recommendations is of great importance. The appearance of bruising or swelling in the treated area is completely natural. The changes disappear after a few days without any additional intervention.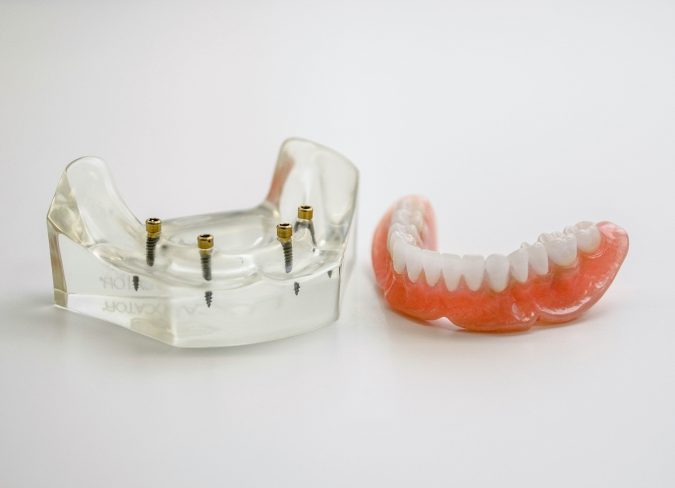 Prosthetics
Prosthodontics is a branch of dentistry that is very important in the area of missing teeth and tissues replacement. It is used both in cases of complete tooth loss as well as significant tooth damage. Patients who decide to undergo this treatment can expect not only improved aesthetics of their smile, but also an improvement in the function of their dentition. Platinum takes full advantage of the possibilities offered by modern prosthetic treatment. In many cases, it is important how quickly we react to the problem, as timely introduced changes can prevent further damage. We conducted prosthetic procedures with the use of the best materials and equipment.
When it comes to types of available restorations, prosthetics offer a wide range of options. There are permanent restorations, i.e. ones that cannot be removed from the oral cavity, such as crowns and bridges, and removable restorations, such as acrylic, frame and combination dentures. We use methods that effectively remove obstacles that need to be overcome to enjoy a beautiful smile. Currently, many people struggle with cavities, which often mean serious difficulties in maintaining an aesthetic
effect. Many people don't realize that tooth loss is also a medical problem that results in healthy teeth taking over the function of the missing elements, which puts additional stress on them. Our clinic is able to help every patient, even with the most challenging problems. In each case, we perform an assessment of the teeth to apply the form of treatment that will be most successful from the point of view of prosthetics and functionality. All patients receive care that is tailored to their needs as well as an effective treatment plan that will provide them with the best and most lasting results that can be achieved in their case.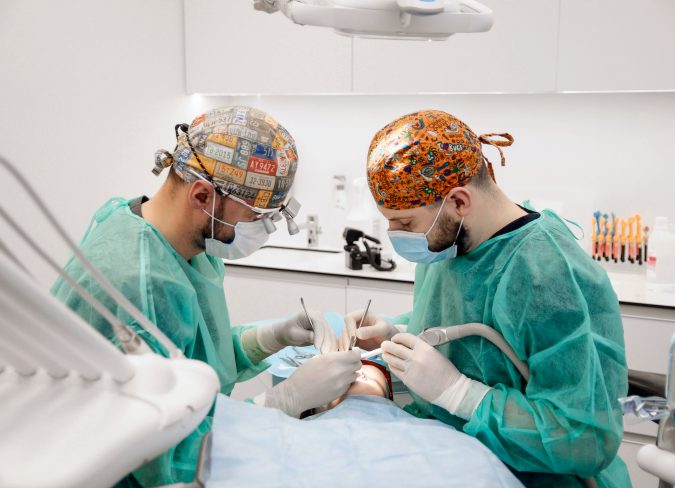 Crowns
Crowns belong to the category of permanent restorations. In most cases, they are fixed on the existing root of the tooth, provided that root canal treatment has been performed and a root- canal inlay has been used. Crowns protect and strengthen damaged or broken teeth. They constitute an alternative solution when restoration with composite is not possible. The undeniable benefit of their use is the chance to fully restore not only the correct shape and color of the patient's teeth, but also their function. The patient receives a very durable prosthetic device that is also very pleasing in terms of its aesthetics.
We provide crowns made from a variety of materials. We offer:
porcelain crowns fixed on natural tooth pillars or a fiberglass inlay. The crowns are veneered with porcelain, which makes the metal parts invisible, thanks to which they provide an elegant and natural look of the teeth.
composite crowns are the most affordable version and are often used as a temporary component
highly cosmetic porcelain crowns on zirconia frames are characterized by great durability and are very pleasing in terms of aesthetics, because they have the most natural color.
dentition They do not cause allergies, and the process of material and tissue
assimilation is trouble-free
all-ceramic crowns in the CEREC system, in which a traditional impression is
replaced with a 3D computer scan of the mouth, which makes the entire process shorter. The technician can design prostheses in a very precise way.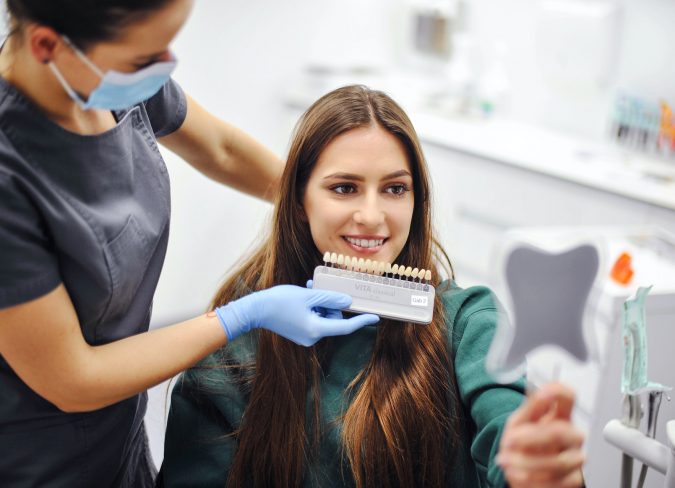 Bridges
Prosthetic bridges belong to a group of fixed prostheses that use your existing, healthy teeth. The method can be used only when the patient has healthy teeth in front of and behind the defect. The method does not carry the risk of damaging other teeth and their tissues, as it does not cause any strain. Instead, there is a chance to restore the original masticatory function that was disrupted when the tooth was lost. Prosthetic bridges resemble real teeth in terms of their shape and color. Patients can enjoy a positive visual effect and, above all, comfort. Our Clinic offers 4 types of bridges made of different materials:
standard porcelain bridges – the most popular type, used in case of large defects
porcelain bridges on zirconia frames – a very durable bridge that resembles natural teeth Suitable for the reconstruction of anterior defects in the maxilla and mandible as
well as defects in lateral segments
adhesive bridges – a unique type of bridge that can be used as a temporary option, for example to restore missing teeth after orthodontic treatment.
Prosthetic treatments using bridges are characterized by high strength and durability, which stems the use of high-quality materials that are resistant to mechanical or chemical damage. They are very resistant to stress caused by biting. They are not prone to distortion or discoloration for many years. The effect will last as long as patients stick to proper and complete oral hygiene. Particular attention should be paid to cleaning spaces surrounding the prosthetics.