A beautiful smile is an asset that everyone cares about. It is a factor that affects high self- esteem, as well as comfort when making interpersonal interactions. The unsightly appearance of one's own teeth is often a source of embarrassment that takes one's joy of life away. Cosmetic dentistry was created to enable the elimination of complexes caused by the smile. According to patients who use cosmetic dentistry services, their life has changed dramatically after aesthetic corrections. The treatments enable subtle corrections as well as complete metamorphoses. Specialists are able to take care of patients' teeth from both an aesthetic and functional perspective. In the Platinum Clinic, dentists have a huge range of tools at their disposal, which makes it possible to achieve the results patients dream of. The type of used method depends primarily on the patients' expectations, as well as the current status of their teeth. There are cases where the path to a flawless smile also requires a combination of other dental disciplines to make the result permanent. All changes are made after a consultation, once a personalised treatment plan has been established. In our dentist's offices, it is possible to take advantage of the procedures of placing veneers and porcelain or all-ceramic crowns.
Veneers
Veneers are aesthetic restorations that resemble porcelain flakes, making them perfectly adaptable compared to existing, healthy teeth. This material is placed in areas on the buccal or labial side of the teeth. A special adhesive is used during treatment, making this method fast and accurate. Veneers are able to reduce dental flaws in the form of uneven shape or gaps between teeth. There are cases where it is acceptable to use veneers as part of orthodontic treatment. Patients appreciate this method due to the minimisation of pain and time spent on the whole process. Dentists suggest eliminating inflammation, dental cavities and calculus before treatment. Firstly, during the treatment, the dentist gently grinds the tooth and performs a 3D computer scan that ensures perfect design of the veneer shape. As a result, patients can enjoy both an aesthetic smile and have confidence that their teeth are strengthened.
CEREC porcelain veneers help with:
evening out the colour of teeth
changing the shape of teeth
restoring the damaged tooth
slight changing the placement of a tooth in the dental arch
eliminating gaps between the teeth.
The use of veneers has many benefits that are primarily reflected in their durability and aesthetics. This material has colour and gloss that are not prone to the occurrence of discoloration. Dentists do not have to make much interference with hard tissues of the tooth during dentist procedures. Veneers quickly adapt to the periodontal tissues and they are fully protected from abrasion, making them a compliant choice for many years.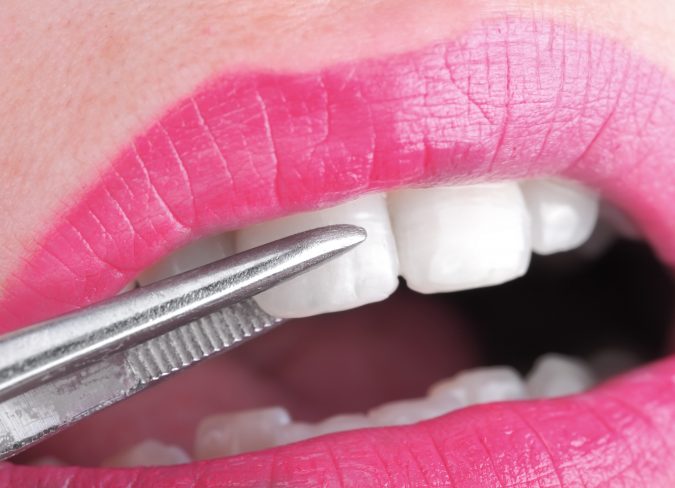 All-ceramic crowns
Solid all-ceramic crowns are in high demand and they are used for prosthetic restorations, however, they also meet aesthetic requirements. Their big advantage is that they are fully compatible with tissues, without causing allergies or side effects. All-ceramic crowns are based on fused porcelain. The restoration is made of several combined layers that guarantee the highest smoothness and gloss. Importantly, crowns are resistant to plaque that has harmful effects. Due to their aesthetic value, crowns are widely used by patients. The used material has similar appearance values compared to natural enamel.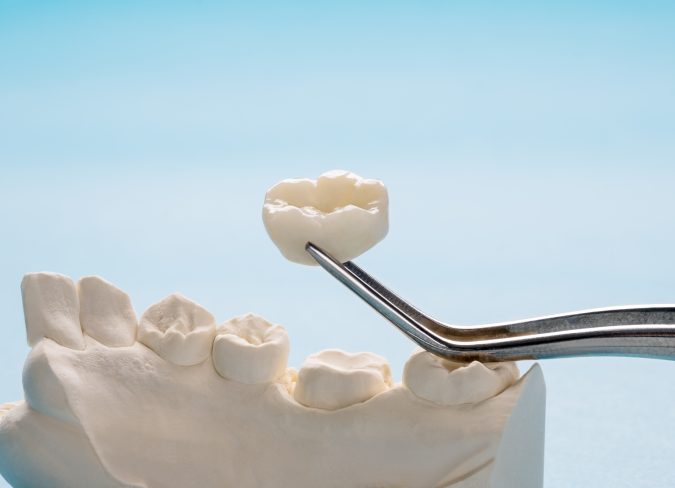 Aesthetic fillings
Cosmetic fillings are one type of solution that is used in the field of cosmetic dentistry. This is a highly advanced method, thus our dentists have the ability to make changes with a high level of aesthetics. Patients, instead, appreciate the durability of the solution that can last for several years. In our dentist's offices, aesthetic fillings are used primarily for small cavities. We use light-cured materials, so that the differences between the natural tooth and the applied material are negligible. Specialists opt for this type of treatment in situations where the tooth is not properly formed, there has been trauma, a crack, or in places where there is already a large number of fillings.
Light-cured fillings come in several shades, making it easy to match them to the colour of the patient's dentition. The material itself is easy to form so there are no difficulties in terms of fitting it to the cavity, thus it not exposes the patient to the discomfort of excess material. The formation of the material takes place after the use of a special lamp that is directed towards the place where the material is placed. After this process, the space needs to be prepared so that no elements can interfere with the patient and he/she can enjoy the anatomical shape.
Composite fillings are used for patients who:
want to take care of the aesthetics of the fillings, which is especially crucial in the case of dentition elements that are visible when speaking and smiling
have old fillings that have lost their integrity or have broken
have amalgam fillings that differ in terms of the natural colour of the teeth.