When problems arise, a quick respond is always the key to avoid serious consequences. This is also the case in the field of dentistry, which is why there is a department that focuses primarily within the rapid detection of changes and their removal. Conservative dentistry is a broadly understood prevention that should be applied not only to children but also to adults. In most cases, patients come into the dentist's offices when they suffer from persistent pain. It is possible to avoid this condition if they attend regular dental check-ups and have their teeth checked. Dental caries causes the greatest devastation. It can frequently go unnoticed due to the various locations where it develops. Tooth cleaning to remove dental caries is fundamental if you do not want to weaken your dentition and lead to serious diseases.
We are the Clinic that focuses on good relationships and professionalism in its services – we are here not only to treat but, above all, to prevent. Therefore, we impart knowledge during follow-up visits on how to best care for areas of the oral cavity. We always encourage our patients to have regular preventive checkups that make it possible to quickly make a diagnosis and select a treatment method if necessary. We want our patients to feel comfortable during their visits, so we offer topical anaesthesia to reduce pain. Additionally, we use the best equipment to get a holistic view of the problems. In an effort to make dental visits a positive experience, we offer adaptation visits for children.
Dental caries and its consequences
Dental caries is a condition that may occur regardless of age. It is caused by a number of factors, but the greatest risk appears in the case of inadequate and insufficient oral hygiene. Caries leads to demineralisation of the enamel, therefore weakening it. Without the implementation of appropriate methods, it may
worsen, causing problems with the pulp and tissues adjacent to the teeth.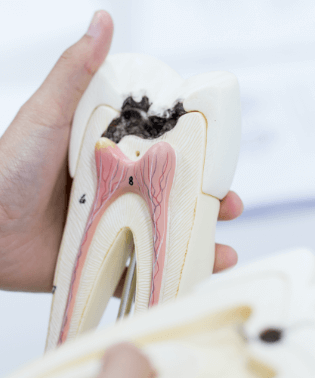 The main reasons behind the appearance of caries include:
The main reasons
behind
the appearance of caries include:
presence of bacteria that transforms sugars into acids in the mouth,
patient's susceptibility resulting from both genetics and a weakened immune system,
poor oral hygiene, particularly inadequate brushing and cleaning of spaces between
the teeth,
poor diet including lots of sugary foods,
meal timing that leads to a decrease in the ph level in the mouth.
To many, dental caries may seem like a common, inconspicuous impediment that can entail many consequences. From a dental point of view, even a small cavity can develop into an extensive one. Pain may indicate that lesions have also begun to develop in the pulp, which translates into the need for root canal treatment. A patient who fails to treat caries is also exposed to chronic inflammation of the periapical tissues. They result from the presence of bacteria in the cavity, which can even lead to bone abscesses. Periapical abscesses are acute lesions that primarily manifest through swelling and the appearance of pus in the soft tissues. Such an occurrence requires immediate dental consultation, and the tooth is often qualified for removal. As doctors, we are obliged to inform our patients that untreated caries not only negatively affects the teeth, but also may influence the general condition of the patient's organism.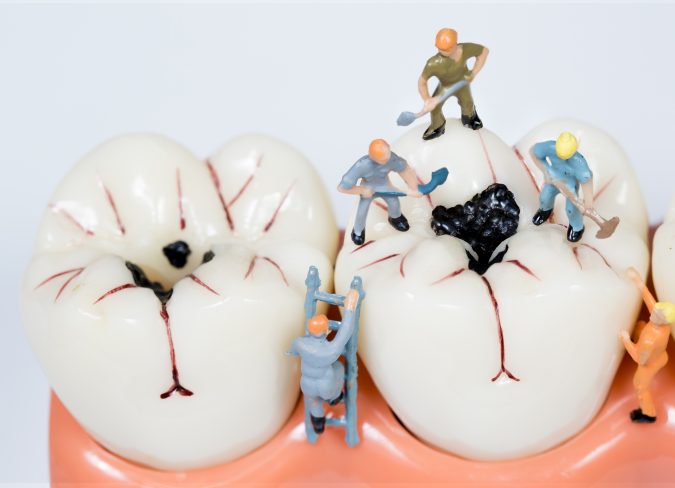 Dental check-up
Every person receives two sets of teeth during their lifetime – deciduous teeth and permanent teeth. Familiarising your child with visits to the dentist from a young age and taking care of their teeth on a daily basis will ensure their beautiful smile and, above all, protect them from diseases. That is why preventive care and regular dental appointments are so important – they allow keeping the condition of teeth under control and eliminate any problems immediately. It is assumed that oral check-ups should occur twice a year. A periodic check-up is a painless process during which our specialists can detect even small lesions. It is suggested that the check-up should also include
teeth cleaning from plaque caused by food that can lead to caries. Some cases may necessitate the use of an X-ray or other methods of diagnosis that require specialised equipment. The physician also checks the gums and determines whether the spaces between them and the teeth are too deep.
Regular dental check-ups are highly beneficial and save you from pain and aesthetic problems. In addition to performing standard check-ups, our physicians can also provide patients with information on what home preventive care and oral hygiene should look like. Patients often limit themselves to brushing their teeth with a toothbrush, which is usually not enough. The use of dental floss and disinfectant liquid can protect the teeth against plaque. Our specialists are also available to assist you in need and answer your questions. Taking care of teeth and gums on your own will become easier while dental check-ups will no longer scare you. People who smoke, have problems with bleeding gums or bad breath should take special care of their teeth.